EPCO has an expanded line of Zero-Leak Gold plugs that include a magnetic design that is ideal for applications like oil and transmission drain plugs. A magnet is mounted into these plugs to remove metal particles in fluid systems, which allows for cleaner, more efficient operation. Zero-Leak Gold magnetic plugs are available in all SAE and metric ISO sizes, and in both socket and hex head styles. And all provide zero-leak performance—guaranteed.
Two-Seal Design
Zero-Leak Gold plugs have two seals. The first seal is a metal-to-metal seal created by the engagement of a taper in the SAE J1926 or ISO 6149 port with a mating taper in the ZLG fitting design. This engagement is several thousands of an inch long for minimal gap and high unit loading. This engagement also causes the removal torque to be greater than the insertion torque, as documented in the Fluid Power Institute tests conducted at the Milwaukee School of Engineering.
See the FPI Test Reports >
The second seal is an elastomeric O-ring seal located under the taper in the ZLG fitting, which acts as a backup seal should there be a failure with the primary seal. The Zero-Leak Gold O-ring cannot be extruded onto the spot face of the port, which prevents ZLG plug from "backing out" as SAE ORB Plugs counterparts are prone to do. The O-ring also cannot be forced into the interface of the threads of the plug or port where it could be nibbled or damaged.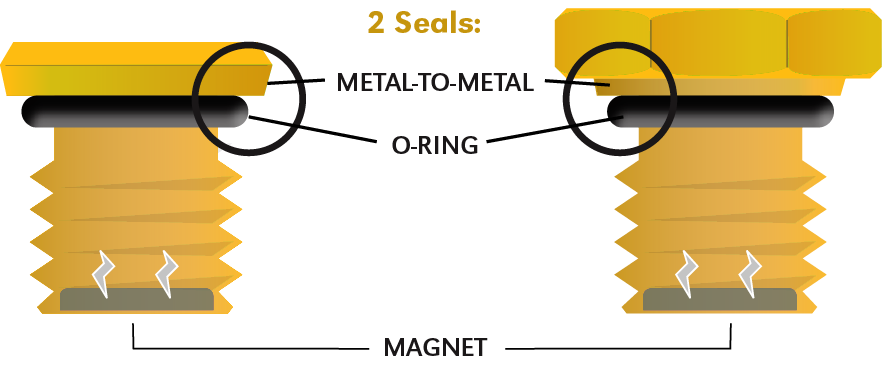 ZLG Magnetic Drain Plug Advantages
Zero-Leak Gold magnetic plugs offer a number of advantages over SAE or ISO metric straight thread plugs.
Able to be resealed repeatedly without loss of effectiveness
Resealing will not damage plug or port threads
No chemical sealants required, eliminating risk of fluid contamination during removal and reinsertion
Guaranteed not to leak or back out, even in vibration, temperature change and pressure spike situations
ZLG Magnetic Plug Sizes
Magnetic Socket Head Plugs
Custom ZLG Magnetic Plugs
Need a size or spec you don't see here? Zero-Leak Gold magnetic plugs are available in custom configurations for unique applications.  Contact us for more info.
Magnetic Plug Applications
Zero-Leak Gold magnetic plugs are configured to replace the old style, O-ring only straight thread fill and standard magnetic drain plugs used in many transmissions and gear boxes today.
Access Ports
Aerospace
Agriculture Equipment
Automotive Equipment Rebuilders
Brake Systems
Construction Equipment
Diesel Engines
Fuel Dispensers
Gear boxes
Heavy duty truck transmissions
Marine Engines
Oil drain plugs
Off-Highway Equipment
Other OEM applications
Pumps
Test Equipment
Transmission Drain/Fill Plugs